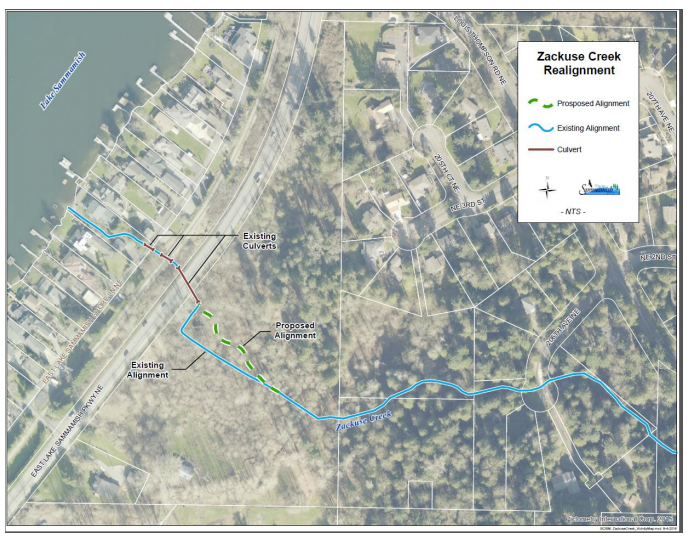 $280,000
Complete!
City of Sammamish constructed a new fish-passable culvert under East Lake Sammamish Parkway located approximately 900 feet south of Louis Thompson Hill Road and restored approximately 400 linear feet of Zackuse Creek upstream of the culvert. Spawning areas for native kokanee salmon have reduced to a handful of tributaries to Lake Sammamish when once they were known to spawn throughout Lake Washington, Sammamish River and Lake Sammamish. The decline of the local population has been of special concern to Sammamish residents, fisheries and native tribes. Without diversity in available spawning habitat, a single localized event, whether natural or anthropogenic, could destroy the entire population. The Zackuse Creek Fish Passage and Stream Restoration project aids in the reestablishment of Zackuse Creek as a kokanee spawning area.
For more information contact: Lisa Werre, 425-295-0573
Senior Program Manager, Member Jurisdiction Partnerships
O: 425-282-1906 – C: 425-773-9065
Jessica has managed the Member Jurisdiction and WRIA Grant Programs at KCD since March 2007. Jessica has a Bachelors degree in Environmental Studies and Spanish and graduate level education in the fields of Public Administration, Urban Planning, and Facilitation and Negotiation. She is an experienced program manager responsible for tracking millions of dollars in grant funding with a successful track record of liaising with local governments, nonprofits, and watershed groups on natural resource conservation issues.